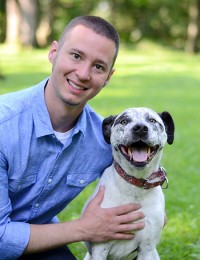 Veterinarian
Preston Ayers, DVM joined Frey Pet Hospital after graduating from Iowa State University College of Veterinary Medicine in 2011. Growing up on the banks of St. Croix River in Stillwater, Minnesota, his family moved to Des Moines, where he finished high school. His love of animals and veterinary medicine began at an early age by catching snakes and birds with his dog in the woods. Dr. Ayers has a special interest in stem cell therapy, laparoscopy, endoscopy, and oral surgery. His wife Amanda is part of the Frey Pet Hospital family, and together they have one daughter. Their household stays extra busy with their two dogs, Newman "The Outdoorsman" and LeeRoy Jenkins, and one cat, Topaz. In his spare time, Dr. Ayers enjoys camping, fishing, hiking, canoeing, and watching sporting events (especially the ISU Cyclones!) One of his favorite times is an annual trip to the The Boundary Waters Canoeing Area in northern Minnesota.
Recent Accomplishments:
Iowa Veterinary Medical Association has named Dr. Preston Ayers as the 2016 recipient of its 'Rising Star' Award. As the first veterinarian in Iowa to perform single port laparoscopic surgery, we've known Dr. Ayers is an exceptional veterinarian since he joined us. Rising Star Award recognizes an IVMA member who graduated from veterinary school within the last seven years and has displayed outstanding accomplishments in veterinary research, private practice, regulatory services, civic activities, academia, and/or organized veterinary medicine.