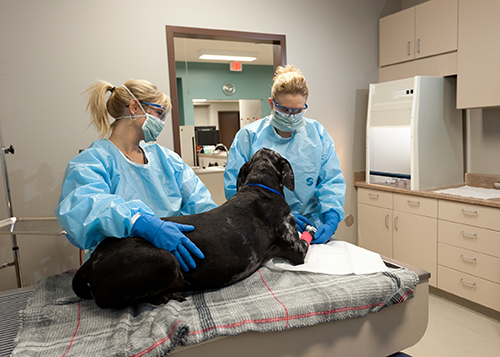 Like us, animals such as dogs, cats, ferrets, and rabbits can get cancer. Fortunately, however, some forms of cancer are curable. In addition, recent advancements in cancer treatment can dramatically extend the lives of many dogs and cats.
At Frey Pet Hospital, our doctors will discuss several treatment options with you when a diagnosis of cancer is made. They may recommend one treatment or a combination of treatments depending on the location and type of cancer, as well as, the advancement of the disease. To help control the cancer in your pet the doctor might recommend surgery, chemotherapy, radiation therapy or send you to a Oncologist for further evaluation depending on the situation.
Surgery is the most commonly used technique to treat cancer in companion animals. The first surgical procedure is the best chance for the doctor to attain complete surgical removal of cancer. Our skilled doctors are available to provide comprehensive surgical techniques for the removal of cancerous, tumors, organs and tissues.
Chemotherapy is often used when cancer has spread to other body parts or when surgery or radiation therapy alone is not effective enough. Our chemotherapy treatments are done in our Special Procedures room which provides a quiet environment for the doctors and technicians to provide treatment to your pet. This room also holds our specialized chemotherapy fume hood. The fume hood allows us to limit exposure to hazardous or toxic fumes, vapor or dusts when preparing the chemotherapy drugs.
Radiation therapy is used to kill tumor cells through the use of an external beam also known as teletherapy. If radiation therapy should be selected as the treatment for your pet, our doctors will refer you to a specialist for assistance with this treatment option.
At Frey Pet Hospital, we are also continually evaluating experimental therapies that may benefit our oncology patients. There are some exciting early results with stem cell therapy, and our doctors are currently working with the doctors at the University of Kentucky on a "cancer vaccine" trial which allows us to treat your pet's cancer with injections made from the very tumor removed from your pet. Ask us if you pet is eligible for this exciting study.
We understand that hearing the diagnosis of cancer can leave our clients feeling overwhelmed and upset. Our skilled doctors and technicians are here to help guide our clients through the process and to provide the best treatment for the quality of life of their pet.